Skip to Content
Kinesio Taping in Fort Gratiot, MI
Kinesio taping is a popular therapeutic technique to help treat and prevent sports injuries and other conditions. Munger Physical Therapy has a team of educated and certified practitioners specialized in Kinesio taping in Fort Gratiot, MI to help you reduce pain and inflammation, optimize performance, prevent injury, and promote good circulation. Let us boost your body's natural healing process.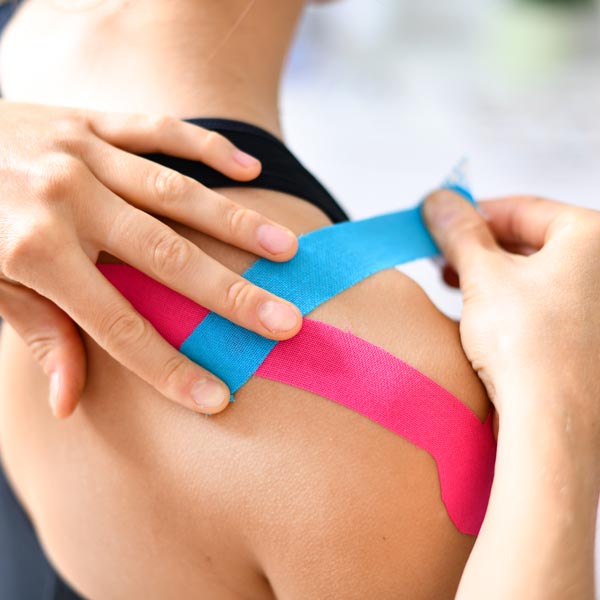 Kinesio Tape: Made With Everyone in Mind
Kinesio Tape is safe enough for a baby's sensitive skin, and gentle enough for aging individuals, sufficiently flexible for rehabilitation, durable enough to support working muscle, joint, or ligament, and strong enough for athletes at any level. In cases when practitioners apply the tape, the tape provides optimized stimulation based on space, movement, and cooling, allowing the body's natural healing power to do its work. Kinesio brand tape is the specific tool of the Kinesio Taping Method and the basis of the ability to tape a wide variety of patients. Through the shared clinical experience of our trained Kinesio Taping practitioners, Kinesio has developed our adhesive to address a wide range of patient care needs, from pediatrics to senior citizens and everyone else in between.
About Kinesio Taping
Kinesio Tape and the Kinesio Taping Method were the brainchild of Dr. Kenzo Kase's belief that he could create a device that could help his patients find pain relief, heal the body naturally, and in turn, give them a better quality of life. Dr. Kase coined the unique name "Kinesio" in reference to the body movement of kinesiology and kinesthesis. The Kinesio Taping Method was designed to facilitate the body's natural healing process while allowing support and stability to muscles and joints without restricting the body's range of motion. It is used to successfully treat a variety of orthopedic, neuromuscular, neurological, and medical conditions. Both Kinesio Tape and the training protocol have shown results that would have been unheard of using older methods and materials.
We Pride Ourselves on Our Individualized Treatment Plans